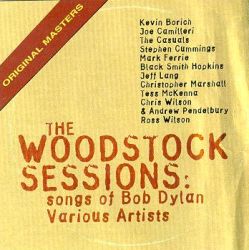 WOODSTOCK SESSIONS: THE SONGS OF BOB DYLAN
$20.00
Available at the special price of A$20 (Including postage, Australia only).
An Australian tribute to Bob Dylan, originally recorded to coincide with Dylan's 1998 tour here and released on disc in 2000. Enjoy many superb interpretations of some of Dylan's greatest songs.
1. From A Buick 6 (Kevin Borich)
2. Everything Is Broken (Mark Ferrie)
3. If You See Her Say Hello (Ross Wilson)
4. Seven Curses (Chris Wilson/Andrew Pendlebury)
5. You Ain't Goin' Nowhere (Joe Camilleri)
6. It's All Over Now Baby Blue (Stephen Cummings)
7. It Ain't Me Babe (Tess McKenna)
8. All Along The Watchtower (Black Smith Hopkins)
9. The Mighty Quinn (The Casuals)
10. Born In Time (Stephen Cummings)
11. Outlaw Blues (Mark Ferrie)
12. The Ballad of Hollis Brown (Jeff Lang)
13. She Belongs To Me (Ross Wilson)
14. Knocking On Heaven's Door (Chris Wilson/Andrew Pendlebury)
15. Every Grain Of Sand (Christopher Marshall)
(Recorded and mixed at Woodstock Studios, Elwood).